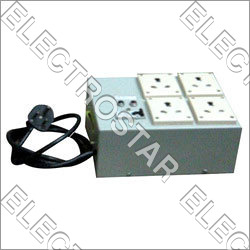 Surge Suppressor
Product Description
Leveraging on our vast experience of 44 years, we are engaged in manufacturing and supplying a quality assured range of Surge Suppressor. This device is used to provide protection to the electric equipments against high voltage. We manufacture this suppressor with the help of our system designers using optimum quality components. We can customize this Surge Suppressor in different specifications as per the requirements of our clients. We offer this range of product to the clients at the market leading price.
Features:

Longer functional life

Highly efficient

Easy installation
Technical Specification Of Electrostar Make "ESTAR" Brand Surge Suppressor

Scope : The use of surge suppressor is to protect electronic equipment from high transient voltage and to limit the duration and frequency of the amplitude of output current

A.C.input

230V. A.C + 10% 50 Hz 1 ph.

A.C. Cord length

6 feet, 3 core, 15 amps, NETCO make
(One ANCHOR make socket to be provided at one end of the input cord).


Miniature. Circuit breaker (Resettable)

One 16 amp Miniature circuit breaker to be provided on input side.

Load handling capacity

2200 watt maximum or 10 amp per socket.

Output socket

4 No. 15 amps socket (ANCHOR MAKE)

Impulse discharge Current (wave 8/20 µs)

13000 amps.

Transient energy (wave 10/1000µs)

600 joules.

Transient suppression

Handles up to 13 KA spikes protection in all 3 Modes-Live to Neutral, Live to Ground and Neutral to Ground.

Surge impulse test between live & neutral, earth grounded amplitude 2KV/ 1.2/50µs super imposed on 230 Volt AC Mains.

Suppressed output Peak voltage less than 200V volts over 230 V.

Surge impulse test between live & neutral (non-superimposed)

Energy of pulse: 2.5 Joules.
Amplitude: 5 KV.
Rise time: 1.2/50µs.

Suppressed output peak voltage not exceeding 800 volts.

High Frequency noise suppression

Greater than 10 db @ 50 Khz
Greater than 30 db @ 150 KHz
Greater than 35db @ 1 MHz
Greater than 20 db @ 22 MHz
Greater than 20 db @ 25 MHZ
Greater than 15 db @ 50 MHz
Greater than 35 db @ 100 MHz
Greater than 25 db @ 200 MHz
Greater than 25 db @ 300 MHZ
Greater than 15 db @ 500 MHz
Greater than 15 db @ 700 MHz
Greater than 15 db @ 1000 MHZ

Operating temperature

0oC TO + 45oC.

Dimension in inches (approx)

3.5 x 7 x 2.5.
Contact Us
T16/1C, Dr. S. C. Banerjee Road, Kolkata, West Bengal, 700010, India
Phone :91-33-23705784