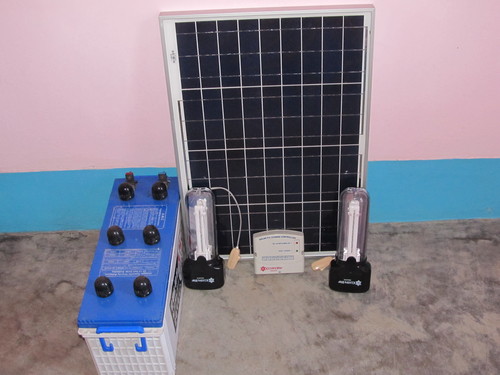 SOLAR HOME LIGHTING SYSTEMS
Product Description
ELECTROSTAR
MAKE
SOLAR HOME LIGHTING SYSTEMS
CFL BASED
HOME LIGHTING SYSTEMS
A typical SOLAR HOME SYSTEM comprises of PV module for charging the battery, Tubular deep cycle battery for storage, a Solar Charge Controller for the safe charging and discharging of the battery, Lighting luminary and provision for connecting compatible loads as
well as a complete set of installation hardware. The battery and SPV module rating are selectable as per the requirement. We provide an easy-to-use illustrated user's manual for easy installation and trouble free usage. Home lighting Systems are powered by solar energy using solar cells that convert solar energy (sunlight) directly to electricity.
The electricity is stored in batteries and used for the purpose of lighting whenever required. These systems are useful in non-electrified rural areas and as reliable emergency lighting system for domestic, commercial and industrial applications.

The systems are designed to give a daily working time of 3-4 hours with a fully charged battery. The system provides for standby storage for 1-2 non-sunny /cloudy days
Contd……2.
// 2 //
TECHNICAL SPECIFICATION
| | | | | | | |
| --- | --- | --- | --- | --- | --- | --- |
| MODEL | BATTERY CAPACITY (TUBULAR) | SPV MODULE | OPERATING HOURS | AUTONOMY | NUMBER OF LISHTS | OPTION FOR PORTABLE TV OR FAN |
| ESTAR-I | 12V 20 AH | 18 WP | 4 to 5 HOURS | 3 DAYS | 1 NOS. 9 WATT | NO |
| ESTAR-II | 12V 40 AH | 37 WP | 4 to 5 HOURS | 3 DAYS | 2 NOS. 9 WATT | YES |
| ESTAR-III | 12V 40 AH | 40 WP | 4 to 5 HOURS | 3 DAYS | 2 NOS. 9 WATT | YES |
| ESTAR-IV | 12V 74 AH | 74 WP | 4 to 5 HOURS | 3 DAYS | 4 NOS. 9 WATT | YES |
| ESTAR-V | 12V 75 AH | 75 WP | 4 to 5 HOURS | 3 DAYS | 4 NOS. 9 WATT | YES |
FEATURES

Ø Safe & Simple to Install

Ø Fit it & Forget it System

Ø Free from noise, smoke and pollution

Ø System could be upgraded in future

Ø Different Configurations available

Ø Elegant & Efficient Lighting system

Ø Highly advanced charge controller

Ø Longer battery life ensured

Ø Adequate protections and indications

SYSTEM COMPONENTS

• Solar panel

• Panel mounting structure

• Connecting Wires

• Battery

• Battery box

• Lighting Luminaries





PROTECTIONS

• Over load protection

• Battery reverse protection

• Load short circuit protection

• Battery Overcharge /

Deep Discharge protection

LUMINARY

CFL wattage: 9watt

Operating efficiency: > 85%

Operating frequency: 25 KHz

System voltage: 12 volts
APPLICATIONS

Ø HOME

Ø OFFICE

Ø PARKING LOTS

Ø COMMON SPACES IN APARTMENTS
-::::::::::::::::::::::::::::-
Contact Us
T16/1C, Dr. S. C. Banerjee Road, Kolkata, West Bengal, 700010, India
Phone :91-33-23705784