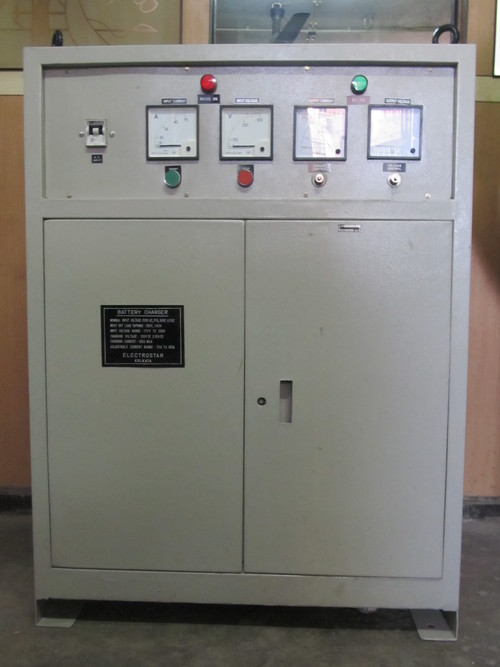 Float Cum Boost Battery Charger
Product Description
Float Cum Boost Battery Charger

In the said charger there are two separate sections namely float charger and boost charger housed in the same sheet steel cubicle. Float charger delivers requisite voltage to the equipment and simultaneously keeps the battery in trickle charge condition. Whenever main supply goes of battery sub-starts supplying the equipment load. When power supply resumes boost charger is switched on and battery bank is connected to the discharged battery. Again when battery gets charged it is transferred back to the float section to maintain its terminal voltage by applying trickle charge to it.
Technical Specification
Input

Single phase 230V or Three phase 415V/440V

Frequency

50Hz/ 60 Hz + 5%

Input voltage variation

- 30% To + 10%

Battery type

Lead Acid/SMF/Ni-CD/VRLA/Plant

Battery voltage

As per customer requirement

Rectifier configuration

Full wave half control in 1 phase thyristor bridge OR
Full wave half control in 3 phase thyristor bridge OR
Full wave full control in 3 phase thyristor bridge.

Transformer

Copper Double wound-Heavy duty

Control mode

Constant voltage, current limiting OR
Constant current, voltage limiting

Boost current

10% of Battery AH Capacity

Trickle current

1% of battery AH capacity.

Dynamic load

10% to 90% range + 10% typical

Efficiency

HRC Fuse, Circuit breaker and electronic

Overload

110% for 10 minutes and 200% for 200 mili

Ambient condition

-10 TO 40oC optional up to 65oC

Humidity

96% non condensing

Audible noise

Less than 60dB at 1 meter

Altitude

UP To 1000 mts

Voltage regulation

+ 1%

Current regulation

+ 2%

Riple voltage

1 3% RMS (normally)

Indication instruments

Indications for 3 phase mains supply
Float/Boost Section
AC volt meter with selector switch
DC voltmeter with selector switch and battery volt
DC Amps meter for lead
DC Amps meter for Charging

Protection

Electronic trip against input fail/ Wrong phase
Gate pulse inhibit AC under voltage/ over voltage
High speed semiconductor fuse at rectifier input
(optional)
HRC fuse at output and filter circuit
Soft start with current limiting circuitry against
over load and short circuit
Device over temperature shut down (optional)

Annunciation

Audio - visual annunciation with flashing LEDs and piezzo buzzer
Fuse failure relay
DC earth fault Relay

Termination of charging

Automatic annunciation with flashing LEDs and piezzo buzzer

Trickle/boost change over

Automatic/Manual

Construction

Folded construction with CRCA sheet steel

Degrees of protection

Folded construction with CRCA sheet steel

Construction

IP-42

Cooling

Air natural or forced cooling

Finishing

Epoxy powder coated paint. Normally RAL 7032, Siemens grey OR as per customers requirement.
Contact Us
T16/1C, Dr. S. C. Banerjee Road, Kolkata, West Bengal, 700010, India
Phone :91-33-23705784