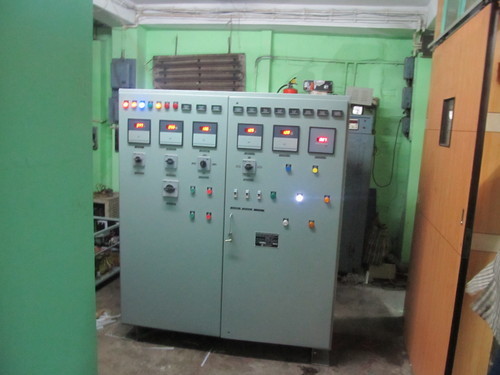 Float And Boost Battery Charger
Product Description
Float Boost Battery Charger

The charger works into different modes of operation which are automatically selected between themselves depending on charge condition of battery.
Auto-Float Mode : Under this mode of working charger delivers regulated DC output voltage suitable to maintain the battery in Float Charger condition, with variation of main supply voltage as well as output load variation from no load to full load. Adjustment of this regulated voltage is possible by voltage control pre set.
Auto Boost Mode : Under this mode of working charger deliver a constant regulated current to the battery while its terminal voltage is in the range of 1.8V to 2.4V/Cell Manual adjustment of this regulated current to the battery is possible by current control trinpot. The terminal voltage of battery charger builts up as the battery gets charged.
In Float cum Boost battery charger automatic mode is provided. Under this mode of working charger works either in auto float or in auto boost mode according to the State of Charger(SOC) of the batteries. Both battery and equipment are connected to the charger. Initially its starts in auto float charging. In this mode if current drawn by battery exceeds a preset value charges a automatically charges from auto float to auto boost mode. As battery picks of charge charging current starts decreasing and charger automatically comes back from auto boost to auto float mode.
Technical Specifications
Input : 160V -270V Single Phase or 300V - 480V Three Phase 50Hz +/- 200Hz
Output : Upto 300V
Capacity : Upto 300 Amps.
Manufacturer' Type & Designation

FC+ BC

Input AC Supply




a) Voltage

230V + 10%

b) Frequency

50 Hz + 5%

c) Power Factor

0.8 at rated load & nominal voltage

Type of Rectifier

Static control

Type of semiconductor material

Silicon control Crystalline

Automatic voltage regulator type

FC: Constant Voltage
BC: Current Limit

Float cum boost charger rating




a) Float Voltage

2.1V/CELL to 2.2V/CELL

b) Boost Voltage (Max)

2.4V/CELL

c) Output Current (Max)

200A (FC) 200A(BC)

Auto/ Manual feature is provided

Yes

Range of variation of DC voltage

+ or "1%

DC Volt regulation from no load to full load

+ or "1%

Maximum ripple content

<1% or <3% rms or <5% rms

Efficiency at full load

>85%

Maximum permissible temperature rise over an ambient temperature of 50 degrees C

75oC

Rectifier Transformer




a) Type

Dry type, Forced Air Cooled, Double Wound

b) Insulation Class

Class H", Forced Air Cooled, Double Wound

Design ambient temperature

45oC

Metering Instruments




a) Type

Digital /Analog, Panel mounting, Flush

b) Dial Size

96 sq.mm, 90o, Scale

C) Accuracy Class

Class 1.5

Protections




a) Output soft start

Yes

b) Over Load

120% for 2 minutes

c) Short Circuit

Yes

d) Input

MCB

e) Over Voltage

Yes

f) Input Under Voltage

Yes

Enclosure Protection Class

IP 31

Insulation Class

Class - F

Internal Wiring

1100V grade, PVC insulated, standard copper conductor

Indications

Yes

a) Mains ON Indication

Yes

b) Charger on Float

Yes

c) Charger on Boost

Yes

d) Charger Fault

Yes

Indication with alarm




a) Load under Voltage

Yes

b) FC DC Over voltage

Yes

c) FC DC Over load

Yes

d) BC DC Over voltage

Yes
Contact Us
T16/1C, Dr. S. C. Banerjee Road, Kolkata, West Bengal, 700010, India
Phone :91-33-23705784